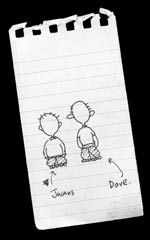 Dave Whiteland
Just the facts.
Beholder

CompSci

Exploding Pen

mySociety (2010–2017)

Illustration & writing

Technical drawing
Aikido

Not brawling for no prizes. In skirts. Weird.
Sotenjuku dojo in Egham and Staines

Renbukan dojo, Bangkok (Phra Khanong)

Over the years I've trained at aikido clubs in many different countries, and a variety of different dojo in Japan (including, of course, the hombu dojo in Tokyo).
Thailand

I spent over seven years, on and off, in Thailand. For two and a half of those years I was a volunteer at a girls' school, where I taught art to 6-year-olds, and English to 11-year-olds.

Bike

I'm an ex-biker, and I miss it. Many, many years ago I had a trusty CX500. My last bike was this Honda NT650DV. If you don't know about bikes, you'll think: ooh, big bike. If you know the difference between an NT and a CBR, you'll think: Dullville.

Boat

Another thing now in my past was being crew on a Drascombe. Two masts, tan sails (you care? OK: a gunter-rigged yawl with a loose-footed main) and the whole thing the size of a very large wardrobe.
For not entirely practical reasons, I used to be a member of the IGKT:
I've been a reader of the following things for a long time:
The celebrated satirical magazine, featuring some of Britain's best cartoonists
A fine example of blogging: personal, silly, clever, funny
Three worthy causes to which I belong:
There are a number of people whom I greatly admire, and luckily for me several of them are my friends, colleagues and teachers.
Finally, in a list of no particular order, here are some people whose lives or work have aspects that, to my mind, are deserving of a standing ovation: