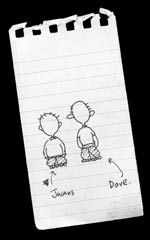 Dave Whiteland
Just the facts.
Beholder

I write, draw, and program the Beholder projects.

Current project:
I'm currently working on a story about a cat.



new


Translations released on World Tapir Day 2018:
Spanish, French, and Hungarian versions
of last year's Dwindle: a Tapir's Tale
(more languages underway).

Exploding Pen

I keep Exploding Pen ticking over, which publishes the Beholder book projects Fudebakudo and The Knot-Shop Man.

mySociety (2010–2017)

For seven years I worked full-time as part of the international team at mySociety, a UK-based charity and sort-of-NGO that makes websites and digital tools that empower citizens all round the world.

CompSci

I'm a Computer Scientist by training — I studied and later taught at the Comp Sci department at Royal Holloway. You can see some remnants of this in my vintage illustrations.
Aikido

Not brawling for no prizes. In skirts. Weird.
Thailand

I've probably spent over seven years, on and off, in Thailand. For two and a half of those years I was a volunteer at a girls' school, where I taught art to 6-year-olds, and English to 11-year-olds.

Bike

I'm an ex-biker, and I miss it. Many, many years ago I had a trusty CX500. My last bike was this Honda NT650DV. If you don't know about bikes, you'll think: ooh, big bike. If you know the difference between an NT and a CBR, you'll think: Dullville.

Boat

Another thing now in my past was being crew on a Drascombe. Two masts, tan sails (you care? OK: a gunter-rigged yawl with a loose-footed main) and the whole thing the size of a very large wardrobe.
For not entirely practical reasons, I used to be a member of the IGKT:
I've been a reader of the following things for a long time:
The celebrated satirical magazine, featuring some of Britain's best cartoonists
A fine example of blogging: personal, silly, clever, funny
Three worthy causes to which I belong:
There are a number of people whom I greatly admire, and luckily for me several of them are my friends, colleagues and teachers.
Finally, in a list of no particular order, here are some people whose lives or work are, to my mind, especially deserving of a standing ovation: