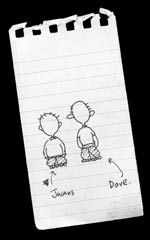 Dave Whiteland
Just the facts.
Aikido

Not brawling for no prizes. In skirts. Weird.
Thailand

I've spent around six years, on and off, in Thailand. For two and a half of those years I was a volunteer at a girls' school, where I taught art to 6-year-olds, and English to 11-year-olds.

Bike

I'm an ex-biker, and I miss it. Many, many years ago I had a trusty CX500. More recently, I was riding a Honda NT650DV. If you don't know about bikes, you'll think: ooh, big bike. If you know the difference between an NT and a CBR, you'll think: Dullville.

Boat

I sometimes crew a type of sailing boat called a Drascombe. Two masts, tan sails (you care? OK: a gunter-rigged yawl with a loose-footed main) and the whole thing the size of a very large wardrobe.
For not entirely practical reasons, I used to be a member of the IGKT:
I've been a reader of the following things for a long time:
The celebrated satirical magazine, featuring some of Britain's best cartoonists
A fine example of blogging: personal, silly, clever, funny
"Fighting ignorance since 1973 (it's taking longer than we thought)"
Three worthy causes to which I belong:
There are a number of people whom I greatly admire, and luckily for me several of them are my friends, colleagues and teachers.
Finally, in a list of no particular order, here are some people whose lives or work are, to my mind, especially deserving of a standing ovation: